I went along to one of these today. It cost £35 and for that you got breakfast, all the drinks you wanted, a lanyard, a memory stick and then an hours driving of four VXR models - Corsa VXR, Corsa Nurburgring, Insignia VXR and new Astra VXR.
I started with three passenger laps in an Astra VXR, then all the driving was down to me so three laps of me driving the Astra with the instructor offering guidance, then swapped into a Corsa VXR for three laps, then did three laps in the Insignia VXR, then three laps in the Corsa Nurburgring (my favourite of the lot - an absolute riot to drive!) then I had a passenger ride with Tom Onslow-Cole in another Corsa Nurburgring before finishing with two laps back in an Astra before my session time was up.
The passenger ride with Tom Onslow-Cole was a good laugh - I had no idea a Corsa could be made to be that sideways everywhere!
Couple of pictures:-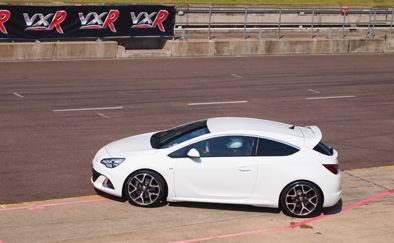 Can't say I've ever been a big Vauxhall fan but I came away from the day deeply impressed by the VXR cars especially the Corsa Nurburgring which was so much fun to drive and also with the way that all the cars were putting up with the pounding they were getting with not a single mechanical hissy fit being thrown.
I'd totally recommend the day to anyone - and for £35 its a complete bargain!
I know Chungsters going tomorrow so will be interested to hear his thoughts too.